Leicester City FC
Hazel Hawker
Historical Record: 325-137-376 (0.470)
Current Season: 0-0-0 (0.000)
Bank 745 / CP 37
Captain: Benjamin Brudenell
Team Awards
1 FA Shield Title

Recent Results
Coach's Biography: Hazel Hawker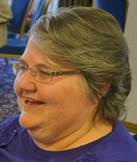 Hiya ... I am the Mum of the manager Cardiff City; wife of the manager of the Dagenham & Redbridge.
We live is Mid Wales - its a kinda damp place, so damp in fact many of the valley have been Dammed to supplier water for the England cities. The Reservoir, waterfalls and mountain sides are a haven for wildlife, great sunsets. Whilst the tourist have a trek to get here - it here on a doorstep.
However Wales is Rugby Union Land - that my excuse for not knowing what I'm doing with this Globe shaped ball.
When not managing Leicester I am a Manufacturing Consultant, working with companies across UK and Western Europe - may be a challenging industry but keeps me out of mischief.
Recent Team News
No team news entries yet...