Bristol City FC
Ellis Simpson
Historical Record: 382-191-376 (0.503)
Current Season: 10-4-9 (0.522)
Bank 1539 / CP 45
Captain: Jay Oakes
Recent Results
Coach's Biography: Ellis Simpson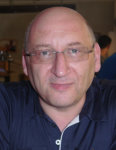 I live in Ra'anana, Israel, am married with two grown up daughters, and work in high tech as a writer.
Apart from family, I keep myself busy with gaming, biking, photography, listening to music, writing, blogging, reading, and watching sport.
If you want to know more, check out my blog: www.raananagamer.com. Or. come and visit. If you have never been, I can assure you it's not what you see in the media.