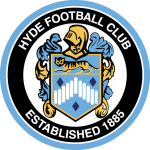 Hyde FC
Carl Oakes
Historical Record: 204-148-204 (0.500)
Current Season: 9-8-7 (0.542)
Bank 2655 / CP 33
Captain: Jed Evans
Recent Results
Coach's Biography: Carl Oakes

Hi! I am a ............. "how old am I dear? ...... 49?" I am a 49 year old ex-Human Resources Manager, who has slipped into semi retirement. I had 16 fantastic years with the drinks giant Diageo but have been doing Interim Projects, when I can get them, for the last 4 years.
I'm married to my long suffering football widow, Karen, have 3 wonderful boys, who all attend Our Wee Country's home games with me but pride of place goes to Cuddles. She's my little over 2 year old grand daughter, Emma.
Football is my outlet, having been a director at my local club Lisburn Distillery, I am also a long long suffering fan of Manchester City.
Away from football (and work, when I have it) I love to BBQ. I own a smoker and now am a firm advocate of Low and Slow. The Christmas turkey is out of this world. I dabble a little with home brew beers and keep bees. Yes bees, don't get me started. They are absolutely fascinating and I will bore you for hours if allowed to start.
I have played MSWL since I think season 7 but a couple of seasons ago let them slip and have been rebuilding since.
At last I'm getting my head round this game but please do take it easy when you play Hyde FC.
Recent Team News
No team news entries yet...