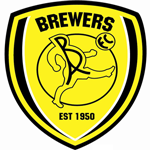 Burton Albion FC
James White
Historical Record: 297-104-205 (0.576)
Current Season: 3-1-2 (0.583)
Bank 3974 / CP 34
Captain: Jared Drinkwater
Team Awards
3 League Titles
6 FA Shield Titles
4 Alan Parr Cup Titles

Recent Results
Coach's Biography: James White

Hello thanks for reading , if you get bored just toddle off for a bit and come back later, to be honest don't bother coming back nothing much exciting in here anyway.
Here goes I'm currently 36 years old and about to enter my 8th year of a (mostly

) happy marriage to the wife. We have three children Scott 11 Chris 5 and Owen 2, none of which were planned per se (well at least not by me!!)
I was recently made redundant from a long term job (18 years) which was a bit of a shock to the system, but if nothing else it gave me a reason to finally learn how to drive (I passed on 3rd time of trying, if you want to know about the stupid failures just ask and I'll spend ages telling you why they weren't my fault . . . ) So with my new driving ability I have acquired a new job which takes me at least 45 minutes to drive to in the morning, however it does pay more and I have now realised that my old employer was essentially crap (despite the nice big payoff I got).
I really like playing United and tend to go for an all out attack style hoping that my heavily trained keeper can do an amazing job keeping out all the inevitable shots he has to face. Failing that I just play dirty which is always fun.
Ah your back again just in time for the end.
Recent Team News
No team news entries yet...