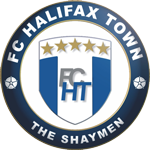 Halifax Town AFC
Vick Hall
Historical Record: 292-119-202 (0.573)
Current Season: 21-2-5 (0.786)
Bank 1202 / CP 42
Captain: Leo Doherty
Team Awards
1 League Title
3 FA Cup Titles
2 FA Shield Titles
3 Alan Parr Cup Titles

Recent Results
Coach's Biography: Vick Hall

Well Ian Honeybun decided not to hang up his boots just yet and has stayed on as Captain to guide the club back to the top flight. Results so far this season have been good despite the blip of losing away at York against a motivated side. We will have to put that loss behind us and stay focused for our tital push and do well in the cups if we can. This sessions match against FCUM will be very hard to see us come out on top and progress in the defence of our AP Cup, but with Honeybun on the pitch for the game anything is possible or so the fans all chant anyway. For once the team have struggled to find players in the auction, but finally managed to splash out for star hardman defender Yehuda Levi who looks set to work alongside Hartmann at the back, providing a solid defensive bulwark for young Bernier in goal who has been coming along leaps and bounds this year.
Former A Little Original Sin Editor and Football Manager Addict Vick Hall, will be hoping to get Halifax Town up and kicking with immediate effect. It's been a while since I have played any United games, but I'm sure it will all come back to me. It better had or Stretchy will be getting a right earful for getting me hooked on yet another football management game. Meanwhile whilst the rest of you are back in UK or wherever i will be sitting up on deck with a nice glass of wine watching the sunset and considering my first set of auction bids.

Recent Team News
No team news entries yet...