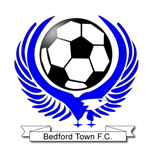 Bedford Town FC
Simon Compton
Historical Record: 236-101-208 (0.526)
Current Season: 8-0-9 (0.471)
Bank 521 / CP 49
Captain: Jamie MacLean
Team Awards
1 FA Cup Title
1 FA Shield Title
1 Youth Cup Title

Recent Results
Coach's Biography: Simon Compton

Simon is married to Lynne with three children, Sophie and Thomas are at primary school and my eldest Katie is now at high school, the years just rush by

. I work in sales for Commercial Relocation company in the midlands but we service the whole of the UK, should anyone work in offices who at stage might relocate or need refurbishment then give me a call

.
I play in around 7 united/football management games, some of which have slow turnarounds and others that are very quick and reliable, need a new challenge then let me know and i will suggest a couple of postal games.
The Leagues that i play in for other Olmec leagues are as follows, although dont tell Mrs C

or there could be trouble ahead!
MSWL - BFC 2nd division play offs just achieved for the first time, been playing for years so at long last the team is coming together
SESL - Hamilton Division 1 just taken them over and off to a bad start
The Manager - ATC recently relegated to Div 2, again another poor season ahead
SFLSL - Division 2 but with a very strong team, should get promoted back to Division 1 and i always like a good cup run in this league, about to play OPT sometime in March, massive game!

OASL - again punching above our weight as we are second on the Div 1 table and in a semi final of the Steve Turner Trophy so again not a bad season.
All in all we do really get some great enjoyment from these league albeit it takes up rather alot of time

Yes thats Mrs C saying get off that computer again!
Now he we go with the goal that just beat ......... well whoever we are next playing i guess