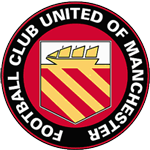 FC United of Manchester
Kevin Martin
Historical Record: 209-113-201 (0.508)
Current Season: 1-2-0 (0.667)
Bank 1035 / CP 38
Captain: Kai Moss
Team Awards
1 Alan Parr Cup Title

Recent Results
Coach's Biography: Kevin Martin

After helming Marine FC for the first ten seasons, I've now led up FCU from the league depths to a solid mediocrity. Many firsts for FCU in the past few seasons: first hardware, first season ever in Div 1, first season-ending historical record over .500. Lots to improve on after a nasty last season marked by an untimely NMR and general lack of proper focus from the management. The Board has him on notice to avoid a repeat of such lapses, or else they may be heavily shopping around to swap managers with another club come season end.
On the home front, Kevin and his angelic wife Jessica now have eight hoodlums to keep them occupied and running in multiple directions. With the eldest learning to drive this year and the youngest just starting to walk, there is rarely a dull moment. Enjoying (nearly) every moment of such a wondrous, blessed life.
Recent Team News
No team news entries yet...