Recent Entries
7 Questions for Session 2

Posted by Allan Sellers on Friday, Aug. 1st, 2014 at 9:18 PM
1) Will Comrade Rob Baptiste go with level 10 hardness again in each match this session?
2) Can JPW's Swansea City get their first win this season? They were competitive in 2 of 3 in session 1, but face a couple of injuries this session. Who will be the first manager to lose to JPW as according to JPW they are worse than a non-league team.
3) Brian Beerman ran up the score 9-nil in BHA's Alan Parr Cup opener against Roy's Nottingham Forest. This week the seagulls host Forest in a 2nd Division league clash. Will the gulls get revenge with a win? Or will Roy just get cynical and put out the Youth Cup team with a hardness setting of 10 to see what damage he can do?
4) Will Andy and Dave Dohm try to determine a winner in their 1st round FA Cup Replay or have they already agreed to just play Youth Cup teams and let the Penalty Kick Shootout decide the result? Knowing these two managers I suspect the latter.
5) After acquiring Yakhov's younger brother Artyom Smirnov, is John Holden's Port Vale poised to make a run at the 3rd Division title? After a strong opening session the Vale may be ready to do just that.
6) Its great to see Peter Babcock back and playing competitive football. Does he have any idea what he's in store for though with league openers against fellow South African Alon Atie's Tranmere and wiley and cagey (or are they the same thing) Andy Bate's Hereford United? If Oldham has one point after these league openers Dr. Babcock should count himself lucky.
7) With three multi-goal losses was Ellis and Bristol City just trying to drive expectations low or will we see an uptick in the play of the Robins as league play opens this week?
Readers Comments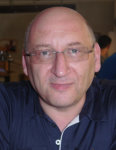 Bristol City - consistency personified. Could be the worst ever record in a season.
Ellis Simpson on Sunday, Aug. 3rd, 2014 at 8:49 AM

7) Ellis, you'll need to be ultra-consistent as the worst record ever, I believe, is 0-1-17 which was good for 1 point in the standings. One win and you will have climbed out of the bottom 3 records. Looks like the least amount of goals scored in a season may have been 4.
1) No way.
8) Someone else will have to be the thorn in Alon's side this season.
Rob Baptiste on Thursday, Aug. 7th, 2014 at 11:04 AM