Recent Entries
Season 36 Results

Posted by Allan Sellers on Sunday, Dec. 13th, 2020 at 4:43 PM
Lewes wins 13th League Title
Dave's team were able to hang on in the final session to win their 13th title on 36 points. Alon's Tranmere were right on the Rooks heels in second place with 33 points. Tranmere is also second in league titles with 11. Preston has 4 and then a handful of teams have 1 title. Evil Empire indeed!
Vick's Weston-super-Mare AFC hung on against Phil's Chesterfield to take the FA Cup title home. They won their 5th and trail only Lewes who have 7 titles.
QPR did what QPR do best and that's win the FA Shield. Dr. White's club won their 5th trophy and are now tied with who else but Lewes in that competition. The Rangers barely made it past Alex Tucker's strong Hereford club.
Friend of Olmec Steve Turner won his 1st AP Cup title with a win over Jeff's Dag & Red who also had a great run in this competition.
Christer Kallin and Sheffield U upended the I-Man's PNE 2-1 to win the Youth Cup. It is the first Youth Cup trophy for Sheffield United.
Readers Comments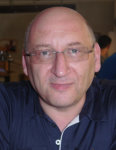 Meanwhile, in the lower leagues...
Weston-super-Mare took the division two title, a mere one point a head of both Queens Park Rangers and Bristol City. Quite the exciting finish.
Cardiff and Swansea (I sense a pattern) were well adrift and easily relegated. Leicester were dragged down also, two points shy of safety.
In division three, Crewe Alexandra took that title, four points ahead of Leeds United who had a similar advantage over third placed Port Vale.
Ellis Simpson on Thursday, Dec. 24th, 2020 at 5:34 AM